ASPHALT PARKING LOTS
The world has become more industrialized and modern, and a need for parking spaces on the streets has risen as individuals have continued to purchase cars to enhance mobility from one city to another. Parking lots are located at malls, places of employment, hotels, and hospitals among other facilities. Asphalt parking lots have continued to develop to ensure that cities remain organized and users can easily access their automobiles without breaking a sweat. Asphalt parking lots offer the most up to date solution. Asphalt parking lots can easily be colored, as there are many colors available. Colors can increase visibility for users when it is dark or rainy and a driver does not have clear vision.
Affordability of Asphalt Parking Lots
Asphalt parking lots do not cost much money to install. It means that those who own a commercial building or even real estate can have them at a friendly price. Asphalt parking lots help these buildings look attractive and add value. Apart from a beautiful landscape, asphalt parking lots last a long time thus saving the owners a lot of money.
Asphalt Parking Lots are Durable
Asphalt parking lots are made to survive under all types of weather, whether it is a heavy down pour, the sun, or snowfall. Asphalt parking lots can last under all these conditions with very minimal maintenance. It is a timely solution and does not require many resources. The number of vehicles that use them can affect the durability of asphalt parking lots.
If the number is too high, the asphalt parking lot lifespan can be shorter if it is not well maintained. Asphalt parking lots should be well designed to make sure there is a drainage strategy in place, which will help to avoid flooding. This can be quite a challenge but will make the asphalt parking lots much more durable.
Merits of Using Asphalt Parking Lots
Asphalt parking lots offer a huge added advantage when it comes to the winter season. If painted black, they can assist the ice in melting when the sun hits the surface. The surface absorbs heat very fast and hence makes the ice melt quickly.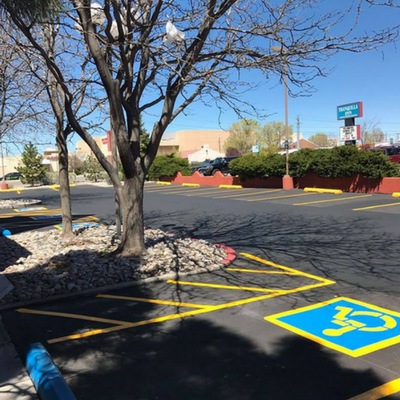 Another advantage of having asphalt parking lots is that when a parking lot is all worn out and looking out of place, the owner has two options. The owner can either have a new parking lot installed or to make a new one on top of the old one. This can greatly reduce both the installation time and expense. Asphalt parking lots have custom colors that are available for owners to order. One has the liberty to choose bright colors, which can assist an individual who is parking without missing his or her spot.
Factors to Consider When Installing Asphalt Parking Lots
One of the aspects to consider is the number of vehicles using the parking lots and which types of vehicles are common in the area. It is important to think of this factor since it has an impact on the sustainability and lifespan of the asphalt parking lots. Another way of looking on whether to install asphalt parking lots is looking at the various costs involved, like the initial cost and the frequency and cost of the necessary maintenance. These costs are vital since they will give clear guidance on the amount of money needed within the lifespan of the asphalt parking lots.